New Chevrolet 2022 Chevrolet Bolt EUV vs. 2021 Nissan LEAF for Sale in Lakewood, CO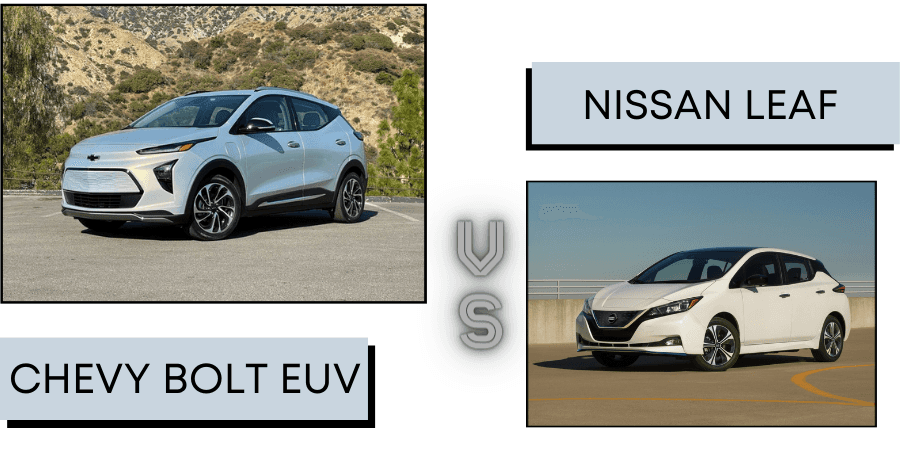 | | | |
| --- | --- | --- |
| | 2022 Chevrolet Bolt EUV | 2021 Nissan LEAF |
| Base MSRP | $33,000 | $31,670 |
| Horsepower | 200 HP | 147 HP |
| City Estimated MPGe: | 125 MPGe | 123 MPGe |
| Highway Estimated MPGe: | 104 MPGe | 99 MPGe |
2022 Chevy Bolt EUV vs 2021 Nissan LEAF
With the introduction of the 2022 Chevrolet Bolt EUV, Chevy has given the electric SUV market an excellent addition. Maintaining the versatility that other traditional Chevy SUVs offer, the Bolt EUV is perfect for those who want to help environmentally without sacrificing the performance and features they enjoy. Compared to other electric SUVs on the market such as the 2021 Nissan LEAF, more performance and a longer estimated mileage rating make the Bolt EUV stand out immediately. Fans of Chevrolet SUVs will appreciate everything the Bolt EUV gives its driver, while the Earth will appreciate the cleanliness of the vehicle.
Performance
Every 2022 Bolt EUV comes equipped with an electric motor that generates 200 horsepower of instantaneous acceleration. For the drivetrain, all Bolt EUV models are FWD only. The Chevy is fitted with a regenerative braking system that will help add to the overall mileage range of the vehicle when activated. The EPA has estimated the total mileage range on a single charge to be 247 miles. Comparatively, the 2021 Nissan LEAF is standardly equipped with a smaller single electric motor that only outputs 147 horsepower. Customers will have to opt for upper-level Plus trims to get a motor that delivers an enhanced 214 horsepower. The EPA-estimated total mileage range of the Nissan LEAF is also shorter than the Bolt EUV with the highest estimated range being 226 miles. With a less powerful standard engine and less mileage on a single charge, the LEAF fails to hit the benchmarks that the 2022 Bolt EUV has set.
Interior Features
Helping keep the 2022 Bolt EUV relevant going into the future of electric vehicle design, Chevrolet has given the electric SUV an interior that is welcoming and familiar to other traditional Chevy models. A spacious cabin means plenty of legroom and headroom for rear passengers to enjoy. While both electric SUVs offer automatic climate control as a standard feature, the Bolt EUV also comes standard with an air filter for a cabin that is both clean and comfortable.
Infotainment options in the 2022 Chevy Bolt EUV are numerous, especially when compared to the 2021 Nissan LEAF. An integrated Wi-Fi® hotspot comes standard on every Bolt EUV while it is absent on the LEAF base trim. The touchscreen display that drivers use to interact with the infotainment system is larger in the Bolt EUV as well. The Chevy sports a 10.2-inch display while the LEAF only has an 8-inch version. Both electric SUVs come with standard modern media applications such as Apple CarPlay, Android Auto, and SiriusXM® radio for plenty of personalized content that everyone in the vehicle will love.
Safety Features
Both the 2022 Chevrolet Bolt EUV and the 2021 Nissan LEAF come with a whole host of standard driver-assistance technologies to make driving around Colorado a more confident and peaceful experience. Automated Emergency Braking with Pedestrian Detection technology is a welcome feature for helping drivers reduce the likelihood of a frontal collision. Both electric SUVs also come with their own versions of Lane Keeping and Lane Departure Warning technology to keep the driver aware of when they unintentionally start to veer out of their current lane. For enjoyable and less tiring highway driving, available Adaptive Cruise Control is found on both vehicles and will handle all of the acceleration work when combined with proper driving practices.
Purchase the 2022 Chevrolet Bolt EUV at Emich Chevrolet
Step into the future of electric vehicle potential with the 2022 Chevy Bolt EUV. The Bolt EUV is perfect for families who want to start making a positive impact on our environment or want to experience what electric power can do with modern vehicle design. Visit Emich Chevrolet in Lakewood, CO today to ask one of our helpful sales associates about how we can help get you the Bolt EUV trim level that best fits the preferences of you and your family. We are happy to serve Denver Metro area customers looking for quality Chevrolet vehicles with affordable and flexible financing options.
We appreciate your interest in our inventory, and apologize we do not have model details displaying on the website at this time. Please fill the form out below and our team will quickly respond, or, please call us at 303-986-2233 for more information.