2022 Chevrolet Bolt EV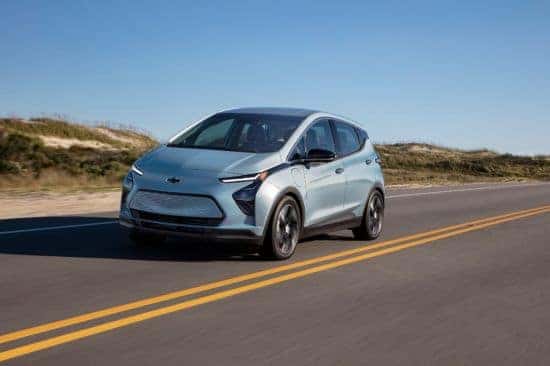 2022 Chevy Bolt EV
BASE MSRP: from $31,000 – $34,200
Horsepower: 200
Total Estimated Range: 259 miles
Get to Know the 2022 Chevy Bolt EV
Taking quality feedback from consumers about the 2021 Bolt EV, Chevrolet has completely redesigned their 2022 Chevy Bolt EV. Drawing inspiration from many of their other vehicles, the Bolt EV is sure to please many Chevrolet fans. The same efficiency and environmental friendliness from the previous model year find their way into the new model. Driving around Denver in the 2022 Bolt EV is a revolutionary experience with familiar touches to make every adventure memorable. The electric vehicle is also less expensive than its 2021 counterpart.
2022 Chevy Bolt EV Trims
There are two different trim options for the 2022 Chevy Bolt EV. Between the two, customers will get to see how innovative Chevrolet design has entered the all-electric field. With the fairly significant redesign that the Bolt EV has gone through for the 2022 model year, there is plenty to be excited about regardless of which of the two trims Colorado drivers choose.
2022 Chevy Bolt EV 1LT: MSRP from $31,000
2022 Chevy Bolt EV 2LT: MSRP from $34,200
Performance
Sporting a single electric motor, the 2022 Bolt EV gives its driver an impressive 200 horsepower that is incredibly responsive. Every press of the gas pedal results in a satisfying burst of acceleration that makes getting from destination to destination a breeze. The battery onboard the 2022 Bolt allows the EV to be driven to a maximum estimate of 259 miles on a single charge, making it ideal as a city cruiser and for taking on trips around the state. Newly standard for 2022 is DC fast charging technology, making it so that drivers can add approximately 100 miles to their range in just 30 minutes of charging. The 2022 Chevrolet Bolt EV is designed to make driving an electric vehicle a convenient experience with its charging capabilities. Another new feature is an innovative piece of technology called One Pedal Driving, which helps capture regenerative energy when you use the accelerator pedal to speed up or slow down.
Interior Features
The interior of the 2022 Bolt EV has been redesigned based on suggestions and other feedback that drivers of the 2021 Bolt EV had. Chevrolet has made the seating even more comfortable than in the 2021 model of the electric vehicle and made the entire design more reminiscent of their traditional vehicles. The infotainment system now boasts a 10.2-inch touchscreen display and comes with both wireless Apple CarPlay and Android Auto functionality at the base trim level. In the upgraded 2LT trim of the Chevrolet Bolt EV, drivers get to enjoy an eight-way powered driver's seat and all of the seating is leather-appointed. Select features including a wireless phone charger are available for equipment on the 2022 Bolt EV as well.
Safety Features
Standard safety equipment on all models of the 2022 Chevrolet Bolt EV is quite extensive. Modern driver-assistance technology including Automatic Emergency Braking, Forward Collision Alert, and Front Pedestrian Detection help keep drivers aware of what is going on in front of them. Lane Keeping Assist with added Lane Departure Warning keep the vehicle in the intended lane on the road and will provide audible alerts to the driver when an unintentional veer is sensed. The 2LT trim of the 2022 Bolt EV gets additional safety technology standard such as improved Lane Change Alert with added Side Blind Zone detection. HD Surround Vision is also found on the 2LT trim of the Bolt EV for a complete visual aid to enhance the driver's visibility.
Order the 2022 Chevrolet Bolt EV at Emich Chevrolet
The 2022 Chevy Bolt EV is available for purchase for environmentally conscious and otherwise interested Colorado customers. If you are considering making the switch from a traditional gas-powered vehicle to an all-electric model, there is no better first option than the Bolt EV. Contact Emich Chevrolet today in Lakewood, CO to find out how you can order a new 2022 Bolt EV when they become available. We make shopping for a new Chevy vehicle in the Denver Metro area hassle-free and affordable with our flexible financing options.
(Photo Credit: Chevrolet)