2023 Chevy Colorado Information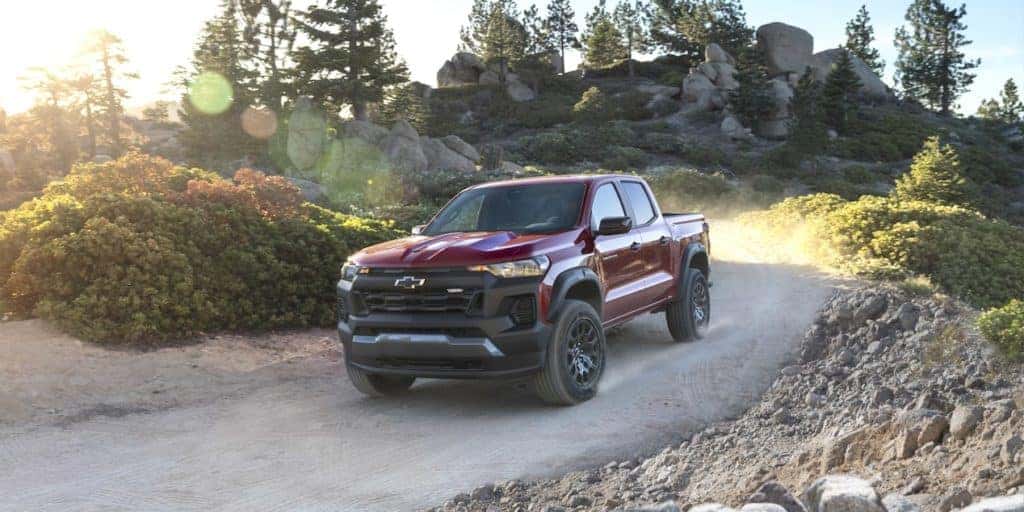 2023 Chevrolet Colorado
BASE MSRP: from est. $28,000
Horsepower: 237
Estimated City MPG: TBA
Estimated Highway MPG: TBA
Get to Know the 2023 Chevy Colorado
After sticking to a tried-and-true design formula for many years, the 2023 Chevrolet Colorado is undergoing a significant overhaul. Set to further modernize and reinvent the familiar pickup truck, the newest iteration of the vehicle promises to deliver the same dependable performance as its predecessors while incorporating new elements. Set for release in early 2023, this new version of the Colorado will be sure to make demanding Denver Metro tasks feel effortless while behind the wheel of the truck.
2023 Chevrolet Colorado Trims
Even with the redesign of the 2023 Colorado, the trim level diversity remains the same. Customizing the pickup truck to meet virtually any need is a major considering factor as to why the Chevy Colorado has been a leader in the competitive market. Either available as a standard RWD version or available with 4WD handling, any trim level of the new 2023 Colorado promises to be a sensational driving experience.
2023 Chevrolet Colorado WT 2WD: MSRP from est. $28,000
2023 Chevrolet Colorado LT 2WD: MSRP from est. $30,000
2023 Chevrolet Colorado Z71 2WD: MSRP from est. $37,000
2023 Chevrolet Colorado WT 4WD: MSRP TBA
2023 Chevrolet Colorado LT 4WD: MSRP TBA
2023 Chevrolet Colorado Z71 4WD: MSRP TBA
2023 Chevrolet Colorado Trail Boss: MSRP from est. $43,000
2023 Chevrolet Colorado ZR2 4WD: MSRP from est. $48,000
Performance
Every trim level of the new 2023 Chevy Colorado will be propelled by a variation of a robust 2.7L turbocharged four-cylinder engine. A new eight-speed automatic transmission accompanies each version of the engine to keep performance both impactful and smooth. Baseline trims with the engine generate 237 horsepower, the Trail Boss and Z71 trims get 301 horsepower, and the top-end ZR2 trim gets 310 horsepower. This means there is a trim level that will easily handle even the most demanding towing and hauling tasks a conventional Denver Metro driver can find. Standard on the 2023 Colorado is a RWD platform, while 4WD is available on RWD models and standard on select other trims.
Interior Features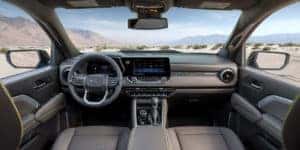 With a single four-door crew cab being the basis for the 2023 Chevy Colorado, customers can anticipate a spacious and highly customizable area to equip all the various elements they want most for their daily ride. New elements such as a redesigned center console and dashboard give the family of 2023 Chevy Colorado pickups a modernized look that everyone will love. As far as infotainment capabilities are concerned, the new 11.2-inch touchscreen on the dashboard provides clear visibility for all the various menus. Bluetooth® and wireless connectivity to both Android Auto and Apple CarPlay make connecting any applicable smartphone hassle-free while on the go. The pickup will also come with a convenient wireless smartphone charging pad to help keep devices topped off. Additional features such as integrated navigation will be available on select trims of the pickup truck family.
Safety Features
Denver Metro customers will be confident that the 2023 Chevy Colorado comes equipped with features to help keep them properly protected in everyday driving scenarios all across the region. Having systems like Forward Collision Warning and Automated Emergency Braking as standard features across every trim level ensures that drivers are always protected from surprises in front of the vehicle. IntelliBeam® automatic high-beam assist helps make nighttime and foggy driving situations much easier to handle. Opting for additional Adaptive Cruise Control makes long highway driving sessions feel much less burdensome on the driver.
Learn More About the 2023 Chevy Colorado at Emich Chevrolet
For more detailed information about the upcoming 2023 Chevrolet Colorado as it becomes available, contact Emich Chevy in Lakewood, CO. Our sales team will be happy to keep you updated with all the various stats and features that become unveiled as we approach the anticipated release date of early 2023. If you want to experience a completely redesigned take on a classic pickup truck, you will be excited to own a new 2023 Colorado when starts hitting dealerships like Emich Chevrolet!
(Photo Credit: Chevrolet)