2024 Chevrolet Silverado EV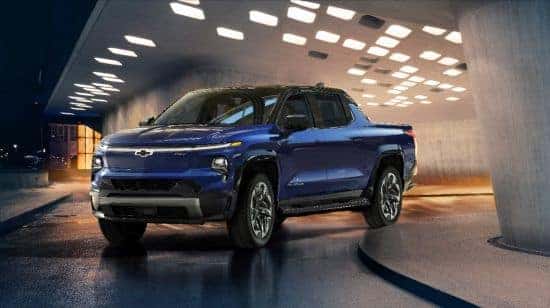 2024 Chevrolet Silverado EV
BASE MSRP: from est. $39,900
Horsepower: 510
Estimated Total Mileage Range: 400 miles
Get to Know the 2024 Chevy Silverado EV
Take the dependable nature of the legendary Silverado and introduce an innovative all-electric powertrain to the design, and the 2024 Chevrolet Silverado EV is the result. Built on the new Ultium platform, the 2024 Silverado EV promises to revolutionize how Colorado drivers see all-electric performance. They can expect similar towing and hauling performance while getting to experience the future of Chevy vehicles.
2024 Chevrolet Silverado EV Trims
There is a selection of announced trim levels for the 2024 Silverado EV. The Ultium all-electric platform will be featured on all trim levels and showcase what all-electric performance can do in comparison to traditional gas-powered pickups. The Silverado EV will also likely be extensively customizable to cater to the modern Colorado consumer.
2024 Chevy Silverado EV WT: MSRP from est. $39,900
2024 Chevy Silverado EV Trail Boss: MSRP TBD
2024 Chevy Silverado EV RST: MSRP TBD
Performance
Chevrolet has announced that the 2024 Silverado EV will use two powerful electric motors to generate approximately 510 horsepower on the base WT trim of the pickup truck. With this much performance, even the most demanding tasks will be handled with ease. It has also been announced that the deluxe RST trim will fully unlock the performance of the Ultium platform to offer approximately 664 on-demand horsepower. All versions of the 2024 Silverado will be AWD thanks to the Ultium platform design.
Interior Features
While minimal details on the interior of the 2024 Chevy Silverado EV have currently been unveiled, futuristic design choices have been made. The roof is made of glass to give the cabin a more open feel. The cabin also has similar total passenger space to the conventional Silverado model. The pickup will be equipped with a standard 11-inch touchscreen display with the RST trim having a massive 17-inch version. There will likely be a wide array of modern infotainment features accessible from the infotainment system is as well.
Safety Features
Currently, the only driver-assistance technology that has been confirmed for the newest all-electric pickup truck is the AWD Ultium platform. Other than this, the RST trim will have a new semi-autonomous driving system known as Super Cruise. The 2024 Silverado EV will likely have a wide array of driver-assistance technology that is synonymous with every other Chevy vehicle currently in production.
Learn More About the 2024 Chevy Silverado EV at Emich Chevrolet
As more information on the upcoming 2024 Chevy Silverado EV is announced, stay updated with Emich Chevrolet in Lakewood, CO. We are ready to help provide you with all the information we currently have on the all-electric pickup truck. When it becomes available for order and purchase, you can count on Emich Chevy to be your go-to destination for a trusted vehicle shopping experience in the Denver Metro region.
(Photo Credit: Chevrolet)