Chevrolet Air Conditioning Repair in Lakewood, CO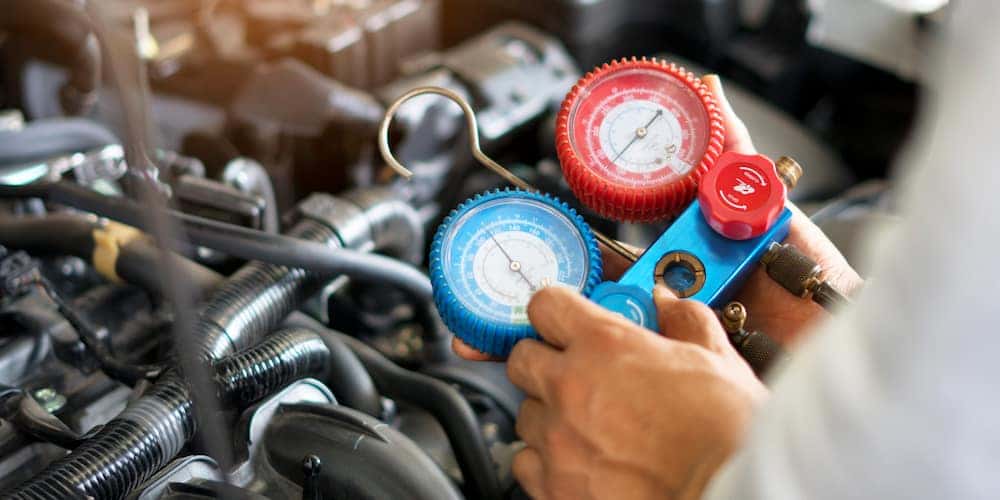 You probably can't think of many things that are more refreshing than stepping into a cool, air-conditioned vehicle in the heat of the summer months, but unfortunately, car air conditioning units don't last forever, and over time, will need to be serviced. Whether the problem is attributed to your A/C fittings becoming loose, or your hoses, seals, or O-rings beginning to wear out, that invigorating blast of cool air will eventually come to an end.
On the bright side, however, if your vehicle's air conditioning system is showing signs of slowing down or is not working at all, our service team here at Emich Chevrolet in Lakewood, CO can have your vehicle's air conditioning back up and running like new in no time. We will carefully examine your Chevrolet and run diagnostic tests to determine what the issue may be, and if there is a leak present, we'll stop it before it can begin affecting other parts of your vehicle.
So, other than my vehicle not cooling down, what are some other symptoms of a defective air conditioning system?
What are the Signs of a Faulty A/C System?
Regardless of the outside air temperature, a properly functioning air conditioning system should be capable of cooling the air in your car by a minimum of 30 degrees. If for some reason you find that your vehicle is struggling to push cold air through your A/C vents or you hear any noise coming from under the hood when turning the A/C on or off, it's more than likely that your air conditioner is malfunctioning and therefore, requires service.
Schedule Chevrolet Service in Lakewood, CO
If you would like to learn more about why your vehicle's air conditioning system may be acting up, or you're looking to schedule a service appointment to allow our experienced Chevrolet technicians to correct the issue, please feel free to contact us online or visit us in person here at Emich Chevrolet! We're located near Littleton and Centennial at 2033 South Wadsworth in Lakewood, CO and our service department offers convenient operating hours from 7 a.m. – 6 p.m. Monday through Friday and 8 a.m. – 4 p.m. on Saturday!