Help in the Fight Against Breast Cancer This Week at Emich Chevrolet in Lakewood, CO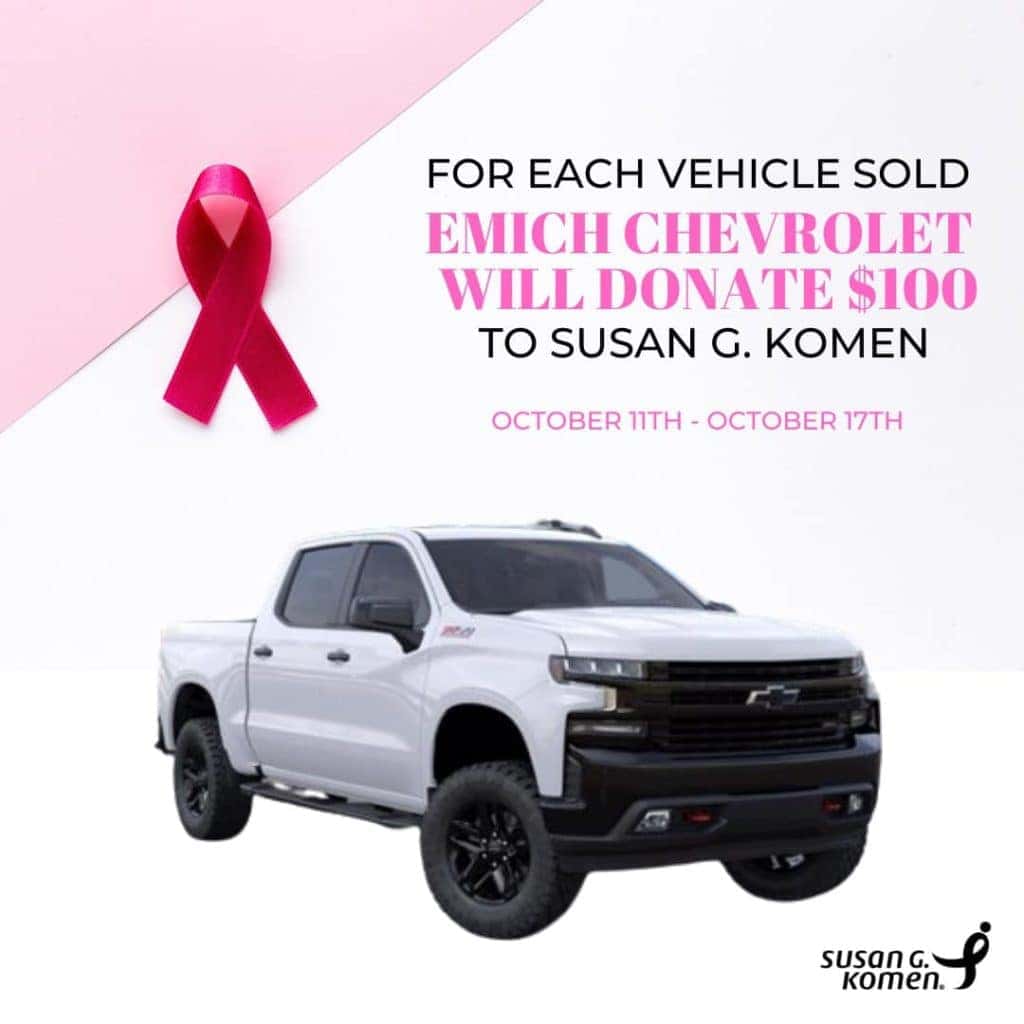 Emich Chevrolet Pairing with Susan G. Komen This Week
From October 11th until the 17th, Emich Chevrolet in Lakewood, CO is excited to announce that we are helping in the fight against cancer. When you purchase any vehicle from us during this week, we will donate $100 to the Susan G. Komen Foundation. Cancer is a terrible disease, and we want to do our part in trying to end the stress and sadness that the illness causes. With October specifically being Breast Cancer Awareness Month, donating to Susan G. Komen is our way to help fight one of the leading forms of cancer.
Buy an Excellent Chevy & Help Find a Cure for Cancer
Not only will you be helping donate money towards the Susan G. Komen Foundation but purchasing a Chevrolet from us means getting behind the wheel of a quality vehicle as well. Treat you and your family to the versatile 2021 Chevrolet Equinox or take advantage of the dependable 2021 Chevrolet Silverado 1500. No matter what vehicle fits your preferences and needs, your purchase will directly help out in the fight against breast cancer. It really is a win-win combination this week at Emich Chevrolet!
Visit Emich Chevy Today to Purchase a New Chevrolet
A leading Chevy dealer in the Denver Metro area, there are plenty of reasons to shop with Emich Chevrolet in Lakewood, Colorado.  If you have been looking at buying a new vehicle to add to your fleet or are a first-time buyer, then make this week your time to get behind the wheel of a sensational vehicle. With $100 going to Susan G. Komen to directly help fight against breast cancer, you will be making a positive impact on the world with your purchase. Visit our dealership from October 11th through the 17th and help lend your support for a noble cause while shopping for a great vehicle.