Red Tag Bonus Cash Available at Emich Chevrolet in Lakewood, CO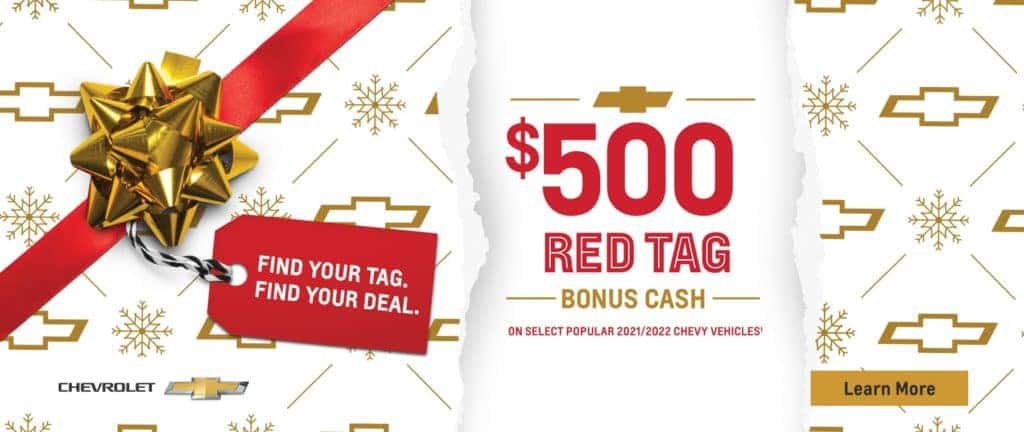 Get A Select New Chevy with Special Incentives!
Treat yourself to a dependable and enjoyable vehicle this holiday season with Emich Chevrolet in Lakewood, CO. Our special Red Tag event is going on now, which means you can get behind the wheel of a new Chevy with extra bonus cash or a special financing offer. We are proud to offer $500 extra towards your purchase of a select new 2021 or 2022 model year Chevrolet that best fits you and your family's needs. If you are a well-qualified customer, you can even choose to take 0% APR for 72 months on select models when you finance through GM Financial Services! Make your holidays sensational behind the wheel of a new model year Chevrolet from a leading Denver Metro Chevy dealer.
Red Tag Event Chevrolet Selection
Many of the 2021 and 2022 model year Chevrolet models we have in our inventory are currently being offered with the ongoing special incentives. Take for example the rugged and versatile 2021 Chevy Silverado 1500 Crew Cab. A pickup truck that delivers a satisfying ride while also performing heavy-duty tasks with ease, the Silverado 1500 is ideal if you need 24/7 on-demand performance. With an extra $500 in Red Tag cash or 0% APR financing for well-qualified customers, owning one of these sensational pickup trucks is a perfect Christmas present this year!
What if you are in search of an SUV that has capable performance, an interactive interior, and plenty of cargo/passenger space? Consider the 2022 Chevy Blazer for your next family-cruising option. Not only is the Blazer a versatile and peppy SUV, but it contains modern amenities that add that desired interactive element to any ride. Not only are the 2022 Blazer models subject to the $500 Red Tag Bonus Cash, but most are also eligible for an additional $1,250 Cash Allowance. This means that you can get upwards of $1,750 off your purchase of a new 2022 Blazer! Treat you and your family to a great SUV option this holiday season and have plenty of memorable adventures around Colorado or the rest of the country.
Learn More About the Red Tag Event at Emich Chevrolet Near Denver
With the Red Tag Event going on right now at Emich Chevrolet, you can get extra cash towards the purchase of a new 2021/2022 model year Chevy model like the Silverado or the Blazer. To find out more about the other models that currently fall under the special incentive, we encourage you to visit our Lakewood dealership today. Our sales team is ready to make sure you have the most informed vehicle purchasing experience possible so you can get on the road sooner in a Chevy you will love. We are highly rated by our loyal Denver Metro customers because we treat each customer like they are a member of our own family. Get top-notch customer service and a new Chevy today at Emich Chevrolet!