2022 Chevrolet Bolt EV a Refreshed Option for All-Electric Performance near Denver, CO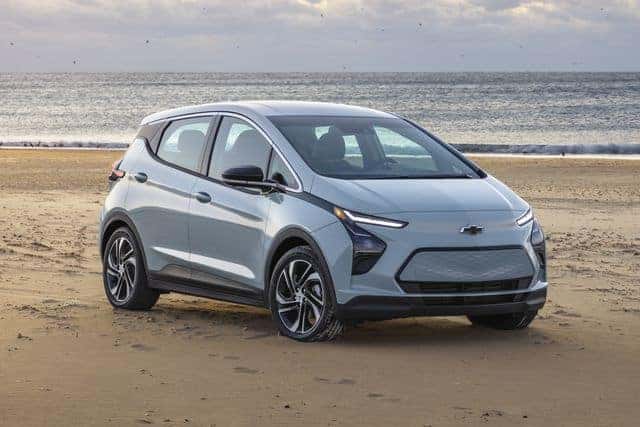 2022 Chevy Bolt EV Redesigned by Customer Feedback
With their commitment to providing customers with an all-electric vehicle that can handle daily tasks like a conventional model, Chevrolet has enhanced the 2022 Chevy Bolt EV. Drawing from the environmental friendliness and solid blueprint the company constructed with the 2021 model, the 2022 version promises to revolutionize the way Denver Metro drivers see all-electric power. Emich Chevrolet in Lakewood, CO will be a proud supplier of this exciting new model when it is released to the public, and we would love to help you learn more about it!
Quality Chevy Performance with an All-Electric Boost
The single electric motor that propels the agile 2022 Chevy Bolt EV delivers 200 horsepower of virtually instantaneous acceleration. Zipping around town or on the highway with the Bolt EV is incredibly satisfying as drivers will feel like they are behind the wheel of a conventional Chevy model. With an estimated 259 mileage range, the Bolt can easily take families around town on a single charge. With new standard DC fast charging integrated for 2022, adding up to 100 miles to the range of the vehicle requires only 30 minutes of charging! As drivers can tell, convenience was a determining factor in the development of the Bolt EV's powertrain.
Learn More About the 2022 Chevy Bolt EV at Emich Chevrolet
Drivers who are interested in finding out how an all-electric vehicle can add to their daily drive should visit Emich Chevrolet near Denver, CO today. Our friendly and knowledgeable sales associates are ready to help customers with their important information gathering so that they can have a confident shopping experience when the 2022 Bolt EV is available to the public. We also make asking questions from the comfort of your home as easy as calling (303) 716-6499. You will get the same quality attention to your concerns as those who stop in and speak with us directly.
(photo credit: Chevrolet.com)