Robust 2022 Chevrolet Silverado 1500 Pickup Truck Available near Denver, Colorado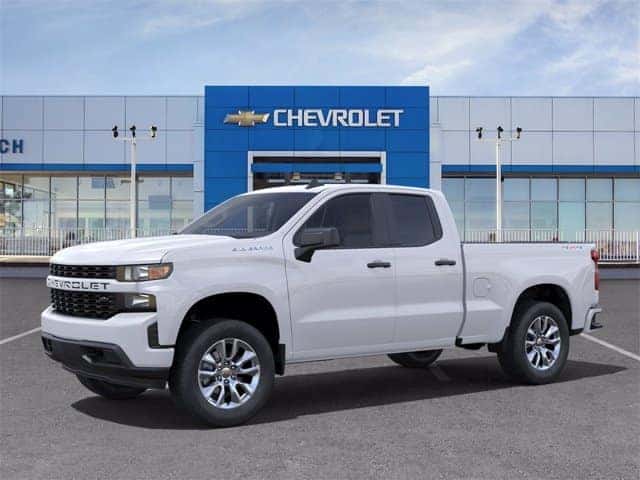 Dynamic Chevy Pickup Truck Available Near Denver, CO
In the world of pickup trucks, the Chevy Silverado has always been a dependable and powerful member of the field. With the 2022 Chevrolet Silverado 1500 LTD Custom currently available in the new inventory at Emich Chevrolet, you can get to experience what a top pickup feels like to drive all around the Denver Metro region. 
Imposing with its superb performance, the Silverado 1500 LTD Custom takes a turbocharged 2.7L engine and delivers its power effortlessly into whatever task you send its way. Whether it's a cruise around town or a demanding hauling session with heavy cargo, the Silverado 1500 is ready to make whatever situation it handles simple on you. Add on the versatility of 4WD handling and you have a pickup truck that is perfectly designed for Colorado driving needs all year round.
Functional Features Installed
This 2022 Silverado 1500 LTD Custom comes equipped with a Tow Package to make towing and hauling convenient. Inside, modern infotainment and comfort features make the interior of the pickup as enjoyable as it is to drive the vehicle. Automatic climate control and plush cloth upholstery on the seating ensure that everyone in the pickup truck will appreciate their time in the cabin. Convenient connectivity through Bluetooth, Apple CarPlay, and Android Auto for compatible smartphones adds a welcome layer of interactivity that today's Denver Metro drivers and their passengers will adore.
Shop with Emich Chevrolet for the 2022 Silverado 1500 LTD Custom
Driving around Colorado in a robust and composed pickup truck like the 2022 Chevy Silverado 1500 LTD Custom is an experience you don't want to miss out on. Visit the Lakewood dealership of Emich Chevrolet today and ask a member of our sales staff about owning the dynamic Chevy pickup truck. With our customer-focused business approach and dedication to keeping you happy with your vehicle shopping process, there is a reason Denver Metro Chevy drivers choose Emich Chevrolet as their go-to destination.